Pavement Marking Removal Service
If you're seeking to remove durable pavement markings from any kind of asphalt or concrete surfaces in the State of Florida, then look no further. Acme Barricades provides DOT and FDOT approved waterblasting services for damage-free removal of thermoplastic, paint, MMA, polyurea, epoxy, rubber and other materials from surfaces including grooved asphalt and concrete, and other audible warning pavement markings.
Water blasting is a superior pavement marking removal method. Grinding and shot blasting can damage the surface area beneath the pavement markings being stripped away, leaving ruts and grooves in the surface. In contrast, waterblasting causes little-to-no-impact on surfaces, making it ideal for pavement marking removal on roadways, airport runways and taxiways, and in work zones.  Our vacuum recovery systems also eliminate the need for clean-up.
Pavement Marking Removal Service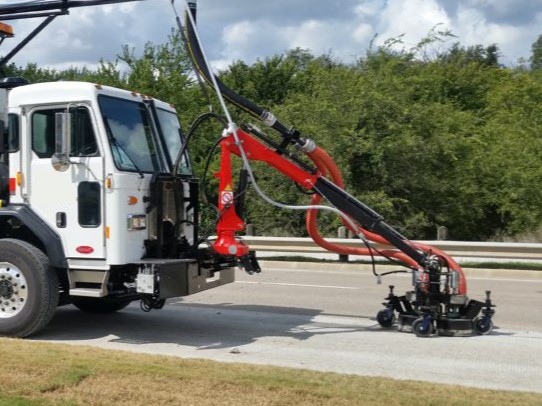 Waterblasting Services:
Concrete and Asphalt Waterblasting
Waterblasting Services for Roads, Airport Runways and Taxiways
Thermoplastic, Paint, MMA, Polyurea, Epoxy & Rubber Removal
DOT-Approved Waterblasting Equipment
Trained Certified Waterblasting Technicians