Permanent Sign Manufacturing & Installation Services
Custom Regulatory, FDOT & Highway Traffic Signs
Acme Barricades' comprehensive permanent signs division offers a full range of highway traffic and regulatory signage including Florida Department of Transportation (FDOT) and MUTCD approved ground-mounted and overhead regulatory signs, and custom sign manufacturing, fabrication and installation services. Our 22+ years of experience in traffic control and maintenance of traffic services in the State of Florida means you can count on only the highest quality signage products at competitive prices, along with the unparalleled attention to safety and superior service that Acme Barricades is known for.
Permanent FDOT Highway Traffic & Regulatory Sign Manufacturing, Fabrication and Installation Services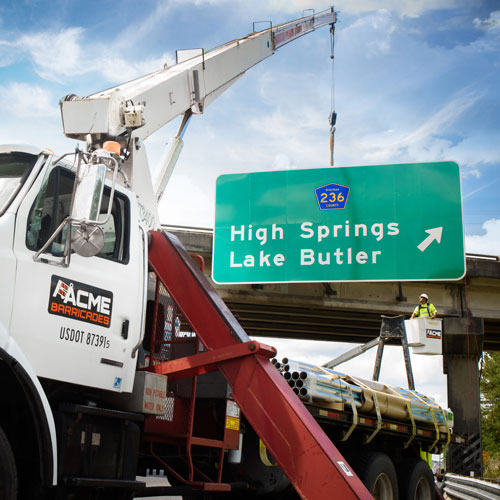 Acme's permanent sign division can manufacture, fabricate and install permanent signs of all sizes and types including DOT & MUTCD compliant regulatory and custom single-post, multi-post, break-away and overhead signs. Our permanent highway signs, mounts, anchors, structures and systems are engineered to withstand the harshest Florida weather conditions, providing maximum visibility and long-lasting durability. Our professional sign installers are familiar with all local, state and federal regulations and are experienced in making sure that your project moves along safely, on-time and on budget.
Permanent DOT & MUTCD Compliant Signage – The MUTCD is a compilation of national standards for all traffic control devices, including road markings, highway signs, and traffic signals. Our permanent traffic and parking signs are MUTCD / DOT compliant and manufactured with the highest quality, longest-lasting materials.
Permanent Highway Traffic Control Signs, Regulatory Signs – No matter what kind of permanent highway traffic control sign you need, Acme Barricades provides them. This includes ADA-compliant highway and traffic signs, reflective signage, lighted signs, overhead signs, cantilevered signs, wayfinding and directional signs, guide signs, raised lane separator systems, temporary traffic control signs, single and multi-post signs, sign stands, bollards, and more. Our signs are all designed to withstand outdoor elements without degrading or fading.
Permanent Highway Traffic Sign Manufacturing, Fabrication, Installation & Removal Services – With years of experience in the manufacturing, fabrication, installation and removal of DOT and MUTCD-compliant signage, we provide our clients with the peace-of-mind knowing that their signage is built, constructed and installed according to local, state and Federal codes. Our certified professional installers also handle the removal, replacement, and repair of permanent highway traffic signs.
Overhead & Ground Mounted Signs & Structures – Acme Barricades provides a full range of overhead and ground-mounted signs. We custom manufacture, fabricate and can install new, or remove and replace existing highway panels and extruded signs, including manufacturing and installing large overhead and cantilever sign structures. For oversized or ground-mounted traffic signs, we can create custom posts and stands to mount securely, based on your requirements.
Directional Signs – Acme's highway traffic and urban directional sign manufacturing, fabrication and installation services enable the communication of route designations, destinations, directions, distances, services, points of interest, and other geographical, recreational, or cultural information. This helps ensure the most efficient road operations, safety and convenience.
Freeway Entry & Exit Signs – Freeway entry and exit signs provide critical directions to destinations or streets and highway routes at intersections or interchanges. They furnish advance notice of the approach and direct road users into the appropriate lanes in advance of diverging or merging movements. Regardless of the size, location or other regulatory requirements, Acme can meet your needs.
Intersection Signs & Two-Way Traffic Signs – Intersection signs let drivers know what lies ahead. Whether a merge lane or a traffic light, these signs keep drivers aware of what is coming ahead. Two-way traffic signs are located when the driver is transitioning onto a two-way road or as a reminder when they are currently on one.
Warning Signs & Caution Signs – Road traffic safety warning and caution signs inform drivers of pedestrians, road work and other hazards. They include pedestrian signs, road work ahead signs, MUTCD warning and caution signs, detour signs, yellow traffic signs, and more. At Acme, we manufacture, fabricate and install high-quality warning and safety signs.
Stop Signs & Yield Signs – Stop signs and yield signs improve road and traffic safety by directing traffic. Yield signs are ideal when a full traffic stop is unnecessary. The literal message of a stop sign is simple and clear. Its intent is to assign and control right-of-way.
Street Signs – Acme Barricades offers custom street sign manufacturing, fabrication and installation services. Street signs are a type of traffic sign used to identify named roads, generally, those that do not qualify as expressways or highways.
Tow Away & Restricted Parking Signs – Tow-away and restricted parking signs mark areas in parking lots or along streets where parking is not permitted. They are used in both public and private settings to ensure viewers of policies, ensure safety, and warn motorists that parking in tow zones may result in their vehicle being towed. Choose from standard or custom sign fabrication.
Custom Sign Manufacturing, Fabrication & Installation Services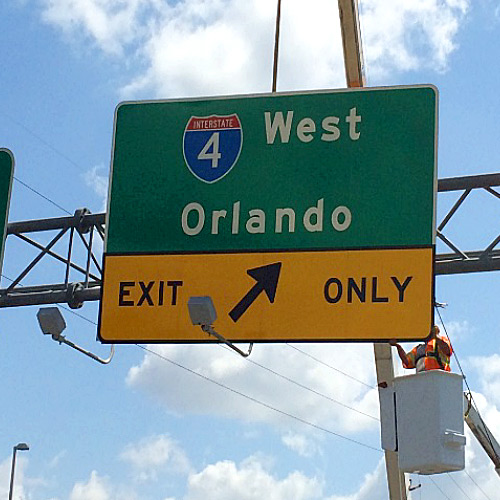 Acme Barricades provides custom sign manufacturing, fabrication, and installation services for all kinds of signs, including permanent, ground mounted and overhead highway directional, traffic, work zone and safety signs. We also provide permanent sign removal and relocation services, and complete traffic control project planning, budgeting, implementation and management services.
DOT & MUTCD Compliant Custom Sign Design Services – As a Department of Transportation (DOT) approved supplier of permanent traffic signs,  Acme Barricades can help you design customized highway and traffic signs, overhead signs, directional and wayfinding signs, street signs, work zone signs, and safety signs, all according to DOT and MUTCD regulations.
DOT & MUTCD Compliant Custom Sign Manufacturing & Fabrication Services – In addition to our design services, Acme Barricades also handles the manufacturing and fabrication of custom DOT & MUTCD Compliant highway and traffic signs. We utilize only the highest quality materials and DOT-approved fabrication methods. 
Ground Mounted & Overhead Custom Sign Manufacturing, Fabrication, Installation, Removal and Relocation Services –  From the simplest ground-mounted signs to the most complex custom overhead highway traffic signs, Acme is equipped to help you from start-to-finish with design, manufacturing, fabrication, and installation services. We also take care of existing sign removal and relocation, as well as sign maintenance and storage.

As a proud 3M Certified Sign Fabricator, Acme Barricades meets the highest standards in the industry, using only 3M approved fabrication processes and materials to deliver superior, long-lasting signs. Acme Barricades has a proven track-record of excellence in multiple facets of sign fabrication, including digital printing, screen printing, and plotting.