Pavement Marking & Removal
Thermoplastic | Paint Striping | ADA Warning Surfaces
Acme Barricades' full-service pavement marking division offers comprehensive thermoplastic & paint marking and removal services for projects of all sizes throughout the State of Florida. This includes audible pavement marking, ADA detectable warning surfaces, and more.  As industry leaders for over two decades, our track record of quality, safety, service and price are unparalleled. We provide a comprehensive line of pavement marking products and services, in compliance with Florida Department of Transportation (FDOT) and MUTCD safety regulations. Contact us for an estimate on your next project.
Thermoplastic Pavement Marking & Removal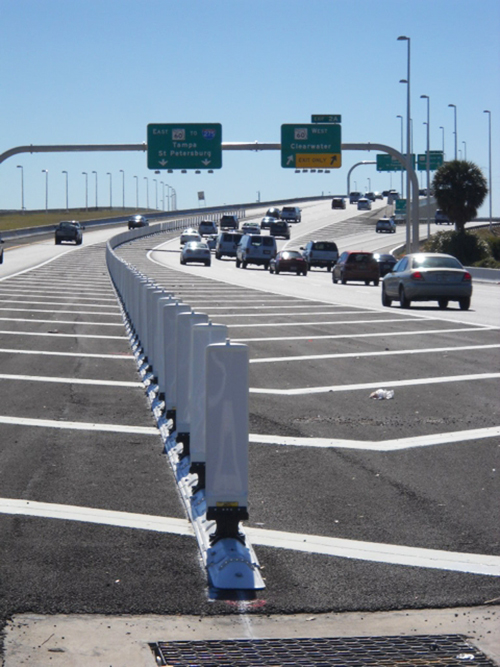 Thermoplastic is one of the most effective striping and pavement markings available. A durable plastic made of binder, pigments, filler, and glass beads that is applied in a molten state, thermoplastic is tough, flexible, highly-visible and lasts longer than paint. Thermoplastic is particularly effective for warm-weather locations like Florida where its excellent adhesion and rapid cooling keeps jobs moving quickly.
Application methods include hot spray guns, gravity extrusion shoes and ribbon guns. We also offer patterned and textured pavement marking, and preformed thermoplastic with pre-cut rolls, lines, legends and symbols for easy installation, as well as full pavement marking removal services.
Thermoplastic Pavement Marking
Alkyd Thermoplastic
Short and Long Line Thermoplastic Application
Patterned and Textured Pavement Marking
Preformed Thermoplastic
Melt-In-Place Preformed Thermoplastic Tape
Pavement Marking Removal Services
Black-out tape, Grinding, Scarification & Waterblasting
Profiled Pavement Marking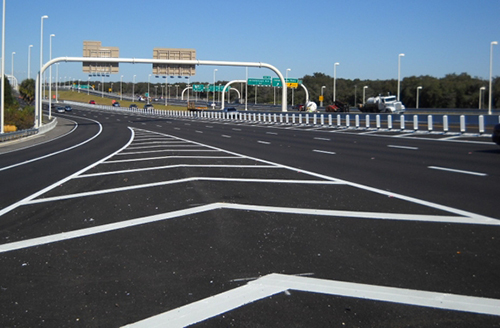 Acme Barricades offers profiled thermoplastic pavement markings that create an audible effect when driven over. These profiled thermoplastic lines act as a warning system to guide traffic and alert motorists to hazards.
ADA Detectable Warning Surfaces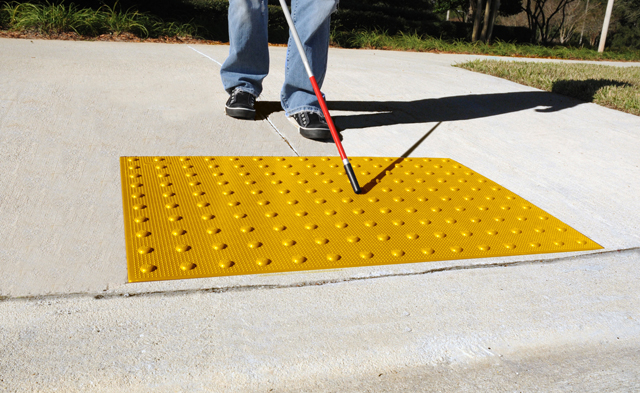 Acme Barricades also offers several products and installation services for Detectable Warning Surfaces in compliance with the Americans with Disabilities Act (ADA). Detectable warnings are detectable by cane or foot to alert people with vision impairment of street crossings, drop-offs and other pedestrian/vehicle boundary hazards.
Road Paint Striping | Re-striping | Removal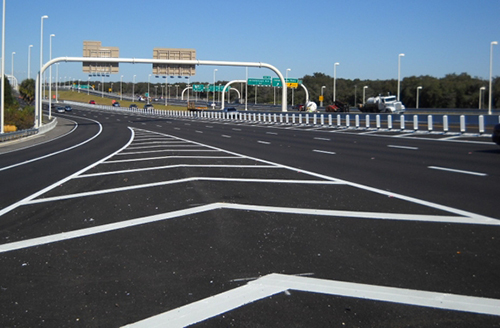 Pavement striping using paint or two-component pavement markings are some of the most durable and cost-effective traffic control measures available. Acme Barricades offers complete paint striping, restriping and striping removal services using a variety of products and methods to suit the specific needs of your project.
Paint Striping, Re-striping & Striping Removal Services
Paint Striping for Roads & Highways
Paint, Tape or Thermoplastic
Painted Custom Lettering & Stenciling
Painting of Wheel Stops, Speed Bumps & Car Bumpers